Low flat rate expedited SHIPPING ON ALL ORDERS
Just Released: 2020 New York Int'l Olive Oil Competition Results
ACAIA Organic just won Gold again, this makes it three years in a row!
The NYIOOC World Olive Oil Competition is the largest olive oil quality contest and its annual listing of award winners is widely considered the most trusted guide to the year's best extra virgin olive oils.
NYIOOC 2020 ACAIA Organic Wins Gold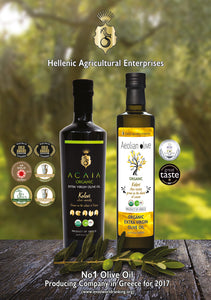 We are proud to offer Olive Oil from a top ranked producer of Greece
HAE produces USDA Certified Organic Extra Virgin Olive Oil.
ACAIA and Aeolian Olive are produced by Hellenic Agricultural Enterprises. For 2019 they once again made the top ten in Greece and the top 50 in the world acording evooworldranking.org.
Produced from all natural, hand picked organic mono-varietal Kolovi olives which are indigenous to the mountainous groves of Lesvos. This rare premium extra virgin olive oil features a very subtle and delicate flavor. It's richly complex aromas evoke the freshness of leaves, herbs, and grass, combined with nuts, tropical fruit, and apple. The excellent balance between sweetness, bitterness, and pungency makes it ideally suited to any culinary use, from salad dressings, drizzling over steamed vegetables, or as a dip, to cooking and baking both savory dishes and desserts.
The island's mountainous terrain and Eastern Aegean Sea climate combine to make Lesvos a botanical paradise. They also ensure that the olives used to make the olive oil grow under the best natural conditions, without the use of chemicals.
During harvest early in the season, while they are still green, the olives are picked with hand-held tools and carried to the road on mules for delivery to the mill. The olives are pressed within a few hours of picking in order to preserve the nutrients and flavors.
The reward for the extreme care taken, apart from the satisfaction of a job well done, is in the numerous international awards that have been won. Extra virgin olive oil is a major component of the Mediterranean diet. What better way to enjoy your daily shot of goodness than dipping fresh bread into the olive oil or dressing a simple tomato and feta cheese salad. The mildness of the oil will surely surprise and seduce you. Use it on fish or meat, vegetables, and pasta, even in a fruit salad. Bake a subtly different cake and unique biscuits. Brush on fresh toast and add a turn of the pepper mill for a quick snack. This olive oil will do it all effortlessly.

Olive Oil FAQs
What is Extra Virgin?
'Extra' is the highest grade for olive oil. Virgin oil may be called 'extra' if it has less than 0.8% free oleic acid, and if it exhibits superior taste and aroma. Thus, the 'extra' in extra virgin olive oil means 'premium' or simply, 'the best.' 
If you select to buy Light, Extra Light, or Pure Olive Oil, make sure you understand that you are not buying a product with the qualities that olive oil is famous for. Instead, you are buying highly processed oil with few if any of the nutrients, antioxidants and anti-inflammatory properties of extra virgin olive oil.  Also missing will be the amazing taste and aroma characteristics.
Why Olive Oil?
Extra virgin olive oils are not processed or refined. Extra virgin olive oil is essentially 'fresh squeezed' from the fruit of the olive tree, without alteration of the color, taste, and nutrients or vitamins. Because of the integrity of the product, and its antioxidant components, extra virgin olive oil will keep longer than all other vegetable oils.
Butter or Oil?
Extra Virgin olive oils can be used in place of butter or margarine in many recipes, such as on vegetables, rice, potatoes, and–yes–even baking! Try our olive oil in your recipe.
How to be an informed consumer?
Always check the "use by" date on the bottle. Unlike wine, olive oil does not improve with age, in fact, it only gets degraded, especially after the bottle has been opened and the oil is subjected to oxygen and light. You may consider buying it in quantities that you can consume within a couple of months after opening.
Always store your olive oil in a cool, dark place and avoid subjecting it to light and heat. These, together with time, are extra virgin olive oil's greatest enemies as they cause it to lose its taste, aroma and healthful properties.
ORDERING TIPS
  Make sure you check out our huge savings when ordering multi packs.
Reveiws
Best I ever tasted. I took a chance on this Organic Olive Oil because I wanted to see what a gold medal winning olive oil tastes like versus what I have been buying in the stores. I have to say that it's excellent, the aroma that filled the room when I opened the bottle and started using it was amazing. The best I have ever tasted. Very impressive, I'm hooked!

Lee Astern
Majestic Olive Oil! I am not a 'foodie' in the sense that it is a big part of my life / daily activity, however, when I stumble across a unique flavor or a remarkable product, I want to share it with others.
WOW! Just opening the bottle of Acaia alone brought a big smile on my face, by just smelling the oil, I knew I was in for something unique. Luckily we had some good french bread laying around, I poored some Acacia on a plate and dipped. And again. And again. And again.

Peter Wiersema
I know EVOO is the healthiest oil, but I didn't realize most of the oil on the grocery store shelves is a mix of many countries, various ages, and stored under all kinds of conditions. The Aeolian Oil is all from one island and one harvest. I thought this type of speciality oil would be heavy or acidic and it was the opposite - bright and fresh tasting. It's like you can taste the Greek sunshine! I'm now using Aeolian Oil for all my cooking, salads, and over pasta. Really good stuff!

Laura Vitale
Thank you for the super fast delivery! I just received it and tried it.. it is delicious! Looking forward to buying more in the near future! Great service, great olive oil!!

Mary Fernandez
This is my first order with The world's best olive oil. This Aeolian Organic olive oil is wonderful and flavorful. The aroma and the peppery taste is very nice. We love it a lot and we will buy it again and recommend it to our friends and family. Thank you for making us discover this beautiful organic olive oil

Abby Gluck
Great flavor!! Best that I have found!

M. Thunquest
I was a member of an expensive olive oil club and this product is just as good at half the price.

Old Smokey
Spectacular quality for the price!  Treat yourself to this highest quality, smooth tasting and flavorful olive oil. I try lots of different brands and this rates with the finest. Very pure

Marie C.
What a Great Gift! I got this as a gift and was so impressed by the taste I had to look it up and find out more about this olive oil.

Jeffry K.